Skip to product information
Blemish Blend Acne Vitamins
CLEAR SKIN STARTS WITHIN.
Blemish Blend is a daily multi vitamin specifically formulated for acne prone skin. It contains vitamins and antioxidants that work to help clear skin on an internal level by delivering the nutrients skin needs to be healthy and acne free. Utilizing our proprietary Skin Clearing Blend with Organic Ginger, Organic Turmeric, Oregon Grape Root and Grapefruit Seed Extract to help clear troubled skin of breakouts by detoxifying and improving oily skin that can clog pores.*Our product is made in the USA.
VISIBLE RESULTS IN 4-8 WEEKS.
60 DAY MONEY BACK GUARANTEE.

FREE SHIPPING IN THE USA.
Regular price

$44.95
Unit price

per
Couldn't load pickup availability.
Blemish Blend Acne Vitamins
WHAT IT IS

A highly effective, daily multi vitamin that helps clear acne breakouts in just 4-8 weeks. Blemish Blend utilizes the most effective nutrients to help cleanse skin of toxins and reduce oil before it leads to a potential breakout.

WHO IT'S FOR

Blemish Blend works for hormonal acne, cystic breakouts, oily skin, blackheads, body acne and more! It is a vitamin that is gentle and safe even on sensitive skin.

HOW IT WORKS

Breakouts start deep below the skin's surface, which is exactly why they need an internal solution to stop them from forming in the first place. Blemish Blend delivers the vitamins and nutrients our skin needs to fight off troublesome acne, once and for all.
A SAFE & SIMPLE ALTERNATIVE FOR ACNE PRONE SKIN
Ingredients

Organic Ginger: Helps calm irritated and inflamed skin, reducing redness and the appearance of pimples. The first step to get skin on the path to healing!

Organic Turmeric: Helps destroy acne causing bacteria that could clog and irritate pores. Turmeric is a powerful ingredient that can help reduce the amount of breakouts you experience.

Oregon Grape Root: Helps stimulate immune system response to acne. This speeds up the healing process of a pimple and makes recovery time shorter. So your skin can look clearer, faster!

Grapefruit Seed: Helps cleanse skin from the inside-out. A detox friendly ingredient that helps keep skin healthy and happy.

Pantothenic Acid (aka Vitamin B5): Helps our skin cells perform at an optimal level and reduces the amount of oil produced from our sebaceous glands.

NON-GMO • CRUELTY FREE • VEGAN FRIENDLY • NO FILLERS

 


Full Ingredient List: Vitamin A (as Beta Carotene), Vitamin C (as Ascorbic Acid), Pantothenic Acid (as D-Calcium Pantothenate), Zinc (as Zinc Chelate), Selenium (as Selenomethinine), Milk Thistle Extract 4:1, Burdock Root Powder, MSM, Oregon Grape Root Powder, Green Tea Leaf Powder (Camellia Sinensis Leaf), Organic Ginger Root Powder, Organic Turmeric Root Powder, Grapefruit Seed Extract 10:1, Vegetable Cellulose (Capsule), L-Leucine (Fermented).
Suggested Use

We recommend taking 1-3 capsules a day depending on the severity of your acne. Please see the chart below for the best skin clearing plan for you!*

Mild Acne & Occasional Breakouts: Take 1 capsule daily.

Moderate Acne & Regular Breakouts: Take 1 capsule a day for the first 7 days. On week 2, start taking 2 capsules daily.

Severe Acne & Constant Breakouts: Take 1 capsule a day for the first 7 days. On week 2, start taking 2 capsules daily. On week 3, start taking 3 capsules daily.
FAQ

Is Blemish Blend Safe? When formulating this product, we were careful to include only the best ingredients and leave out anything potentially harmful. That's why we said NO to fillers, artificial colors, preservatives, soy, dairy, animal testing, sugar, gluten, caffeine and GMO. Our product is made in the USA in an FDA regulated facility that is GMP Compliant under the strictest safety standards.

Does It Work? Our Skin Clearing Supplement is a nutritional boost to your daily routine and helps clear skin of acne and breakouts deep below the skin's surface. It contains a unique blend of vitamins, minerals and herbs to clear skin fast. The majority of our customers see results in 4-8 weeks.

How Long Does A Bottle Last? Depending on how many capsules you take daily, 1 bottle can last from 1-3 months (i.e. 1 month if you take 3 capsules a day, and 3 months if you take 1 capsule a day.) Each bottle contains 90 capsules. Please see "Suggested Use" for recommendations on dosage amount. Never exceed 3 capsules a day.

More Questions? Check out more info in our full customer care section here, or email us at hello@goldandgrove.com.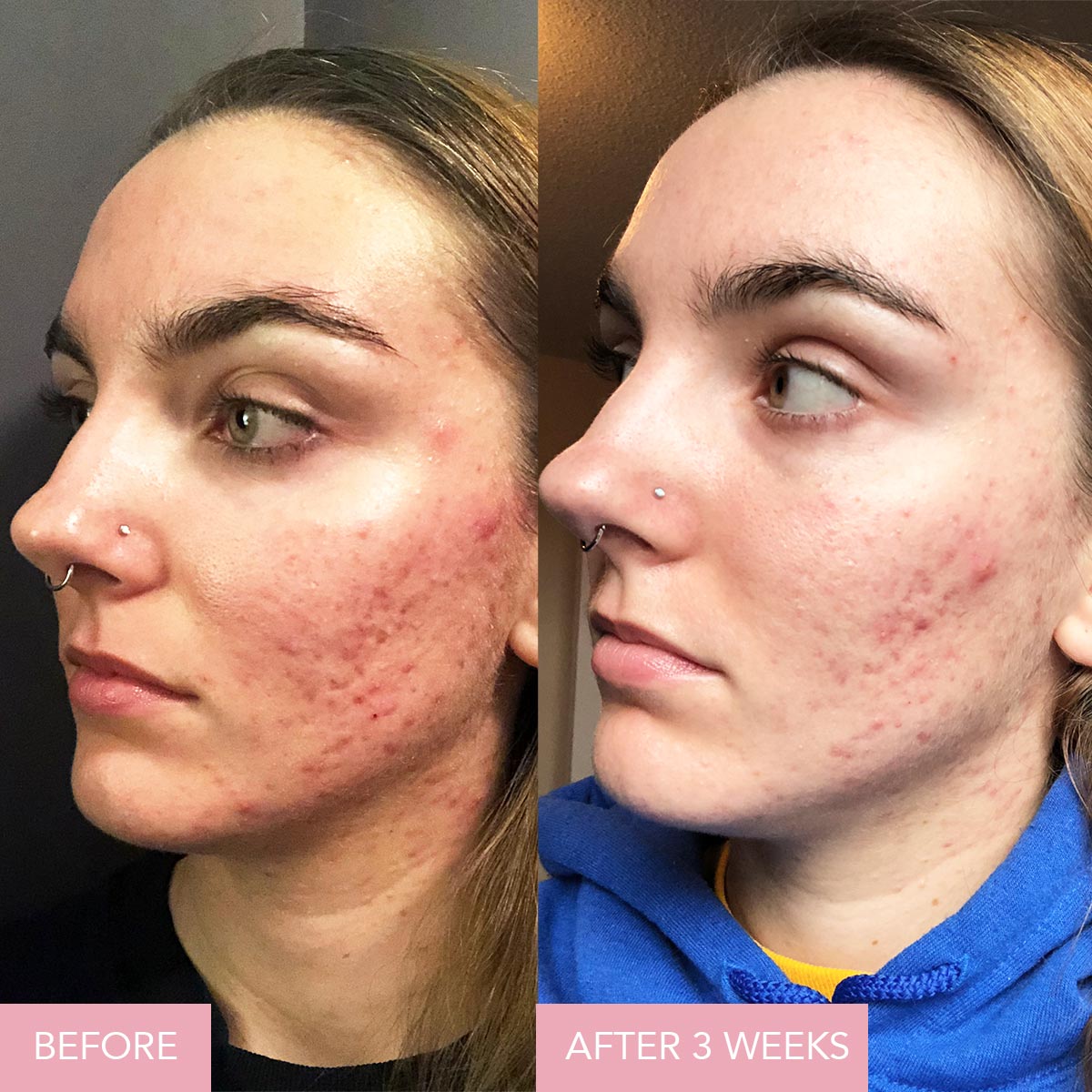 CLINICALLY EFFECTIVE
In a consumer perception test with 27 participants, after 8 weeks:
93% experienced less breakouts.
89% indicated an overall improvement of their skin appearance and skin health.
93% found their pimples healed quicker.
88% noticed an improvement in their body acne.
78% found their skin to be less oily.